Suitable for:
Printed invitations
Email Invitations
SMS / Text Message invitations
Social Media / Messaging Apps invitations (e.g. Facebook, WhatsApp, etc)
Great for when:
You want to send / distribute personalized invitations to all guests
You want to control guest count limits per guest
When you "Add guests Individually"...
You add your guest's name (required)
You can also add your guest's email (optional)
You choose the total number of people included with this guest's invitation (including the named guest)
When you send your invitation, this guest will receive a personalized invitation with a unique invitation link, just for them! (which will help you track if they've received and viewed their invitation to your event)
Alternative Method:
How to Add Guests Individually (and send personalised invites)
Step 1: Access the 'Invite Guests' screen
There are two ways you can access this page:
You will be automatically forwarded to this page after clicking the "Continue" button on the 'Preview' page
You can come back to this page anytime by going to "Hosted Parties" in the main menu, then clicking on "View / Edit Event" for the event, and then click "Invite Guests" in the timeline menu for the event at the top of the page (see image below)

Step 2: Choose "Add Guests Individually"

Step 3: Add guests to your guest list
Add your guest's info and click "Add to Guest List" button
NOTE: Your guests have NOT been sent their invitations yet!!! At this point, they have simply been added to your guest list. See next step for how to send your invites.
Step 4: Send your invitations
Once all your guests have been added, you will see them listed on your guest list on this page, now it's time to SEND your invitations out
To Send / Print Invitations in Bulk
Select the guests you'd like to "Bulk Email" or "Bulk Print" by clicking on the respective checkbox for each guest
Once done, in the bottom right hand corner, click the "Send Selected Invites" button to send and print in bulk for all the selected guests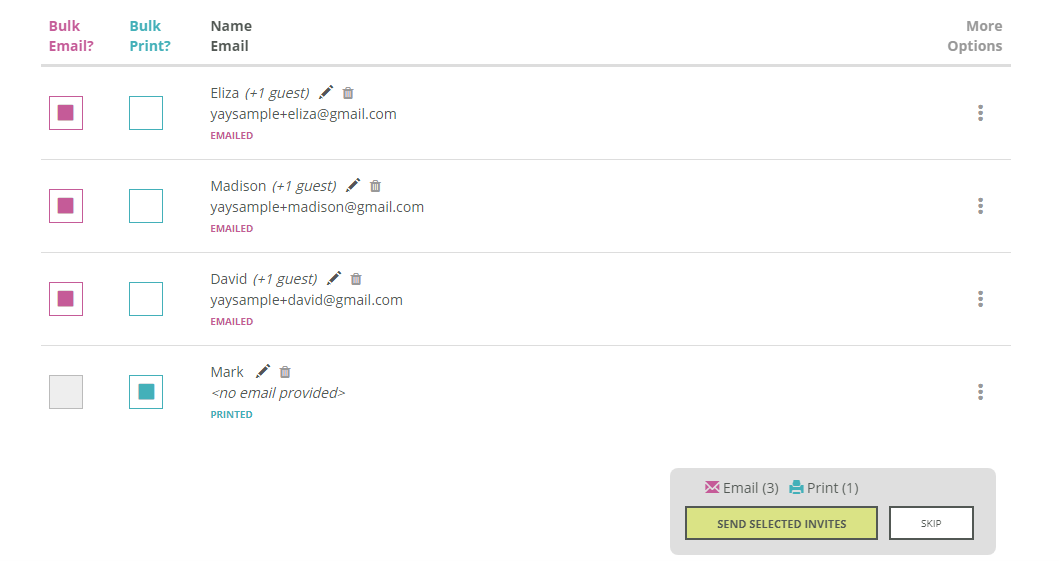 To Send / Print Invitations One-At-A-Time
To send an invitation to one guest only, hover your mouse over (or click on mobile devices) the ellipsis (3 vertical dots) icon found under the "More Options" column

You'll see the options to send the invitation individually appear, there are three options:
Email: Emails this guest only with their invitation
Print: Redirects you to the screen to download and print the invitation for

this guest

only
Copy Link: Copies the unique link for this guest to your clipboard so that you can share it with this guest using any method you'd like (e.g. SMS / Text Message, WhatsApp, Facebook Messenger, etc)

Other Helpful Articles: