Suitable for:
Printed invitations
SMS / Text Message invitations
Social Media / Messaging Apps invitations (e.g. Facebook, WhatsApp, etc)
Great for when:
You want a shortcut to invite many people at once
You already have a chat group or email group for all those invited and
You don't have contact information for all guests
When using "Non-Personalized Invites"...
You use a single General Invitation Link to invite all of your guests (or many copies of the same print invite)
Your guests will be prompted to add their own name, email, and number of guests when they view the invitation
Once they've done this, you'll have access to this info and can easily send update messages to all of your guests
Alternative Method(s):
How-to send non-personalized invites to your guests:
Step 1: Access the 'Invite Guests' screen
There are two ways you can access this page:
You will be automatically forwarded to this page after clicking the "Continue" button on the 'Preview' page
You can come back to this page anytime by going to "Hosted Parties" in the main menu, then clicking on "View / Edit Event" for the event, and then click "Invite Guests" in the timeline menu for the event at the top of the page (see image below)

Step 2: Ensure that "Non-Personalized Invites" is selected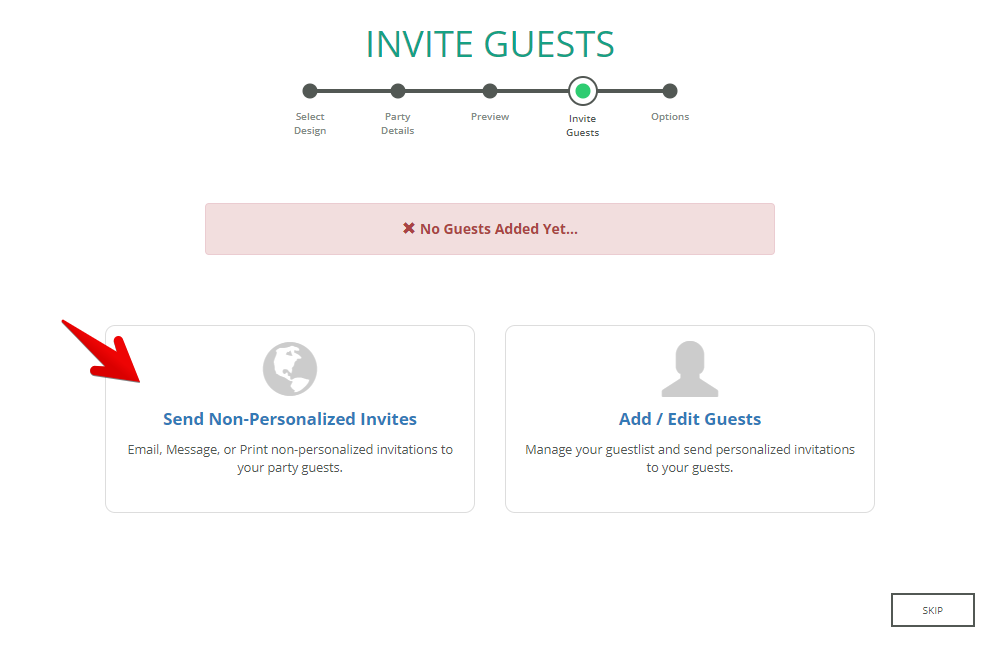 Step 3: Send your invitations
Option 1: Copy your General Invitation link and share it with all of your guests however you'd like! (email, text, social media, etc)
Option 2: Print as many copies of your General Invitation as you require and distribute them to your guests. The printed invitations will include basic details AND a QR code/link to access the online version with all the details and a place to RSVP to the party.